2007 Is Here!!!




2007 is already hectic year for us at Cosmic Squeak Rattery. Having bred a number of litters contaning Blue Marked Dumbo Rexes - including the fabled Blue Variegated Dumbo Rex - I sat back and decided that I was going to call a halt on the breeding and enjoy the rats I have as pets.

I mean, you have to understand breeding a blue variegated dumbo rex took four years!!

So it's been a while since I have bred a litter, I have been enjoying rats as pets and I have had chance to reflect on what rats I have, which ones I would like to breed in the future and what I would like to breed for.

I then sat down and worked out how my plans could become a reality, I am now breeding towards:

Double Blue Variegated Rex Down Under Dumbos and Double Blue Capped Rex Down Under Dombos (the litter should contain a 50/50 split of capped and variegateds).

To get to this point I will need to breed around 5 litters of rats. Please read through my breeding plans for more details and keep your eye on my litters page. I want to hear from anyone and everyone that thinks they can help.

Finally, a big thank you to everyone who has offered their support and who has indicated they are planning to home the kittens in the coming year and a half.

CSR in the World.


The Cosmic Squeak Rattery (CSR), located in Chorley, Lancashire, in the UK.


I started to keep rats in 1996 and began breeding so that others could enjoy owning rats in 1999 (all rats are related to my first doe). At CSR we breed responsibly. There are a limited number of rats available at any one time, because it is our belief that too many kittens lead to unwanted, unhandlable adult rats - simply down to the fact that they have not been given the amount of attention that they need during their kittenhood.

Colour and type are also secondary considerations. Quality rats have the combination of good looks and a good nature, but without the good laid back nature a pet rat is a wild rat in a cage.

As well as providing you with quality pet rats we can also build you a cage to house your new addition to the family - see the Cage Page for details.

What's the Website For?



These pages exist primarily to give advice to rat owners who have recently aquired rats from the rattery and to further promote the rattery.

It is an aim of this site to contribute in some (possibly minute) way so that pet rats may have a better life .





Cosmic Squeak Rattery is not officially recognised by the NFRS, although the owners are members of the NFRS. This is not because the rats bred by CSR are of poor quality - in fact most of our rats ancestors are indeed show champions - but because most of these rats have not been entered for shows! CSR does not guarantee that rats from the rattery are showable (in the context of their appearance), rather that we will do our best to make sure that they are happy and healthy pets.




You have been the or so guest to sniff round these parts since April 27 2001!

Site last updated 23/01/07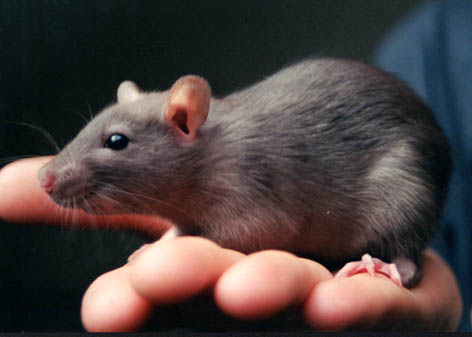 This is a kitten that we bred some years ago now
I hope that you will see that the website is slowly but surely getting a bit more uptodate - have a good look around!!
.


You can now also access the web site from http://clik.to/rats.



E-mail me on Da11ey@hotmail.com